We are back and better than ever Summer 2022! Applications Available Now!
The enrichment of your child's life is what Fun Under The Sun is all about. Founded in 1991, kids throughout Southern California now enjoy a full-service recreational day camp located at Los Angeles Pierce College in Woodland Hills. Our activities inspire growth in your child. From an opening circle each morning to arts & crafts, sports, cooking, and drama activities, specialists work with each camper to encourage and guide their development.
Camp activities focus on:
Creativity, Imagination & Individual Development
Fun Under The Sun is one of the few camps where everything is included for one low price.
Download our brochure for dates and cost
Every Week
Music, Skits and Drama
Games and Sports
Arts and Crafts
Cooking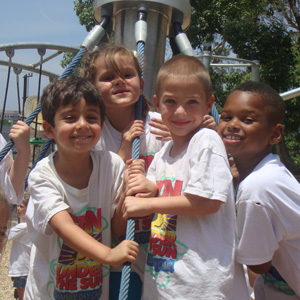 FUN UNDER THE SUN CAMP
Fun Under The Sun Day Camp provides a safe space where campers can be themselves while exploring new ideas. During each two -week session campers visit specialty areas each week including: Arts & Crafts, Cooking, Sports, Swimming, STEM, Preforming Arts and GAGA. Weekly themes enhance our programs and culminate in an "All Camp" activity on Fridays. Every Tuesday and Thursday one hour is dedicated towards your "Campers Choice". Some "Campers Choice" activities include: Magic, Yoga, FUTS News, Creation Station (Lego building), Face Painting. Wednesday is field trip day.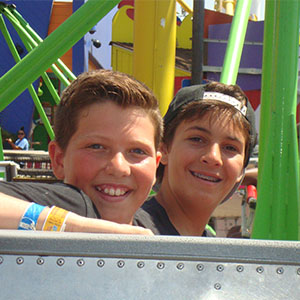 TEEN TRAVEL PROGRAM (2-week program)
Campers entering grade 6-9 in the fall school semester will be placed in our exciting Teen Travel Program. During each two-week session, campers will be traveling to new destinations such as Hurricane Harbor, Santa Monica Pier, Laser Tag and other thrilling places. Each Tuesday is Beach Day. Mondays and Fridays campers will stay at camp and participate in regular camp activities. Fees include: Travel, entrance fees, lunches (except trip days, campers must bring sack lunch and drink or money to purchase lunch) extended care, afternoon snack and one camp T-shirt per summer.
Please check with camp office to see if alternate programming is available for 6th graders only.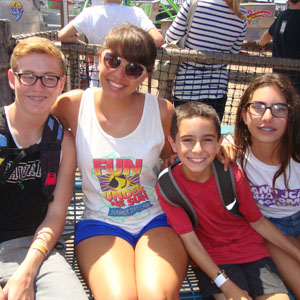 LEADERS IN TRAINING PROGRAM (LIT) (2-week program)
This program provides 7th – 9th grade campers an incredible leadership experience.
Providing a great opportunity for valuable learning experiences aimed at the personal growth of each camper.
LIT'S spend time learning what it takes to be a successful counselor by working with our younger campers each week. LIT's become a positive role model for all campers. LIT's learn to plan and then implement creative programs.
At the end of each session, teens will plan and lead their own program.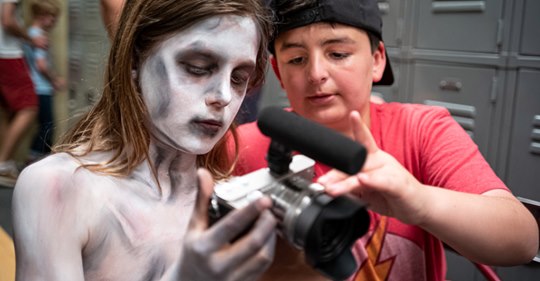 CAMP SPIELBIG / FUTS ON FILM (4-week program)
Lights, camera, action! Fun Under The Sun announces Camp Spielbig – an intensive 4-week movie making program for 4th – 9th graders. This hands-on program is led by Jon Felson, a professional writer/director who is a graduate of the prestigious University of Southern California School of Cinematic Arts and completed the UCLA Professional Program in producing. This specialized camp will feature special guest advisors from the film industry. The program will take your child through the production process – where stories come from, writing their own screenplay, the fundamentals of cinematography and editing. The Campers will study Spielberg's magic, then create their own 8-minute movies. Each fun filled session will culminate with a red-carpet premiere of your child's movie. This fee includes all camp activities, extended care, lunch (except field trip days), afternoon snack, swimming, "Camp Spielbig" will not swim daily, a weekly field trip and a camp T-shirt. Space is limited for this program.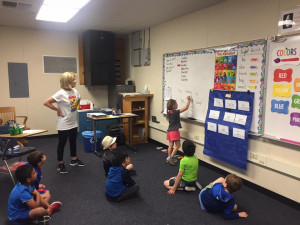 Kindergarten Readiness
(* add-on cost: $80/week)
We are offering an exciting new Kindergarten readiness program for your Pre-Kindergartner to get a jump start on their Kindergarten educational experiences. This program is offered two days a week at 8:15am. Then your camper will join the rest of the camp at opening circle. Space is limited for this program.
SWIMMING
Campers swim 3-4 days a week except on field trip days. Non-swim activities are also available.
At Fun Under the Sun, safety always comes first.
Each camper is swim-tested their first day of camp and put into a group based on their abilities
Lifeguards are always on duty
Supervising staff are positioned in and around the pool at all times
FIELD TRIPS
All campers attend one off-campus field trip per week. Fun Under the Sun plans only "safe" field trips.
Plenty of supervision / Controlled environments / Tons of fun
Transportation is provided via bus service with high safety records and ample insurance
The cost for each trip is included in your enrollment fee. Popular past field trips include:
Imax Theater / Bowling / Rollerskating / Scooter's Jungle AND MORE!
MEALS, SNACKS AND OTHER EXTRAS
As part of the session fee:
A well-balanced lunch and snack are included and served daily.  The lunch menu is available on our website.
One free T-shirt per camper, for the summer ($10.00 for each additional T-shirt)
Extended daycare at no additional charge
Go to the Application and download for dates and prices.